Book 1: The Walls of Moria. Ráthwald • Tulk • Bósi • Bori • Brogur • Bróin • Hundi • Dithalion · Book 1, Chapter 1. Vol. I, Book 2, Chapter 6: Protected by the Eglain. Posted on November 4, by Beleglin. Don't like the NPC: Candaith (NPC) image 3 thumbnail thanks to. I'm a F2P player, and have been playing off-and-on-again for 3 years. I finished speaking with Elrond, and I went to continue to Book 6, but neither where the next quest picks up: gaalmapat.site:Vol._III. I am guessing you just finished Chapter 8, so maybe this is the next quest you 2 days ago.
Mae govannen! I come to you with an odd problem. I'm a F2P player, and have been playing off-and-on-again for 3 years. I play exclusively on the Brandywine server.
Epic Quest: Vol. 3, Book 3, Chapter 6: For Wadu
Book 3. I went to continue the quest chain, but the NPCs had vanished from the area - except for Nar and Frithgeir, but I could not get quests from them. I went back to Lhanuch hoping to find the Grey Company, but they were oddly absent as well Tonight, my secondary character, a level 51 burg, completed Volume I, Book 5 in Rivendell.
I finished speaking with Elrond, and I went to continue to Book 6, but neither Elrond nor Aragorn give me the quest. I have no way of getting the next quests in the chain. Has anyone else encountered this problem? What is going on? I have never encountered this before, and I would really like to continue the Epic Quests.
Navigation menu
Even though they might not work, it's not really a problem. You can continue leveling and come back to the epic quests whenever you want.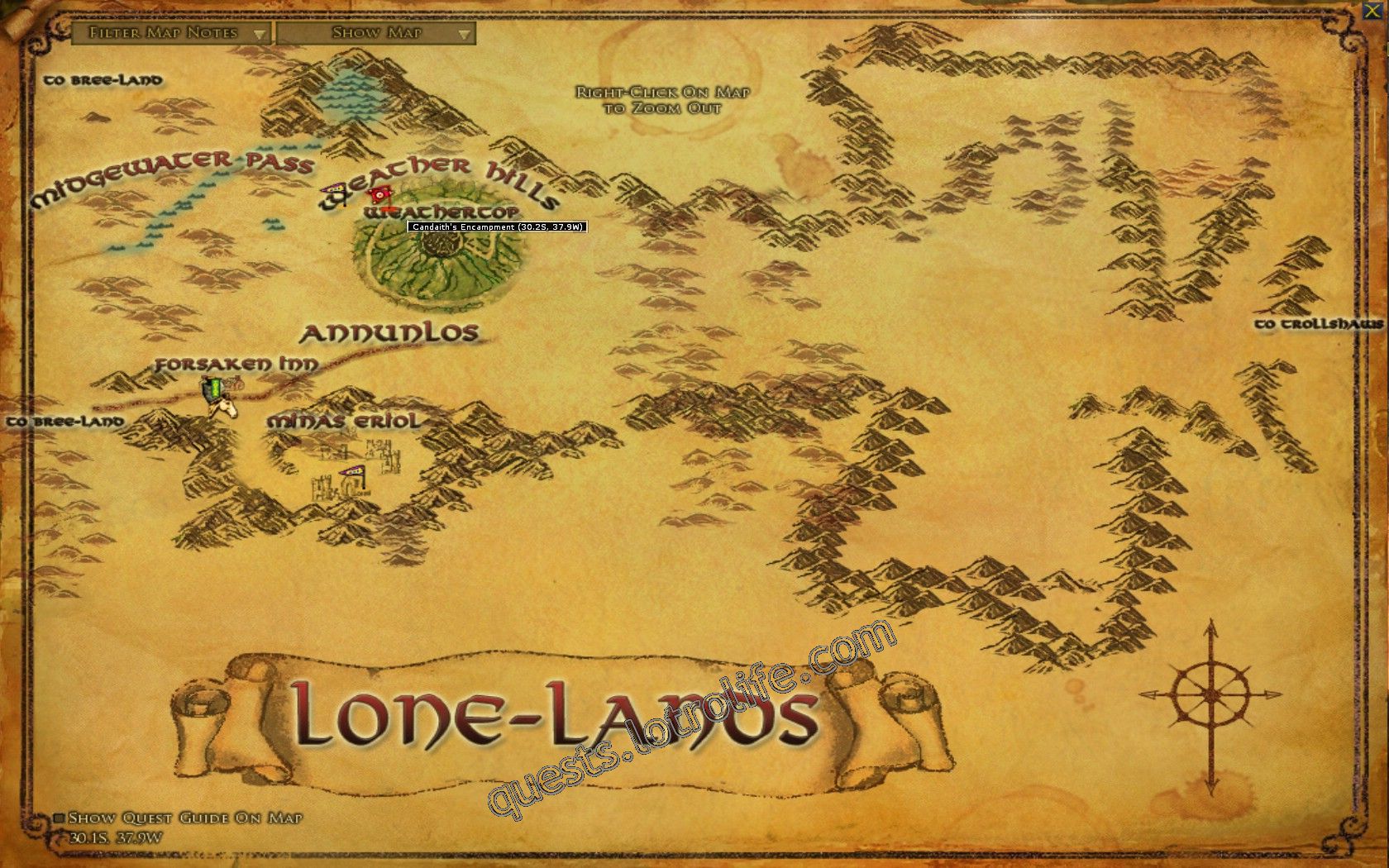 I don't think it's game breaking until you get to level I have done all 3. That is why I am confused.
I should be seeing something like a grey ring, but it's not there. Both of these quests were, as far as I know, implemented before the game had phasing technology, so it shouldn't really be possible to break the quest flow like you could in some of the RoI and RoI epic chains which have since been patched, anyway.
Because you're above-level for the quests in both cases, it's possible that you're getting a grey quest ring for them, which wouldn't show up on the minimap. I seem to recall, though, that Epic quests always get the really flashy burning ring icon, regardless of your relative level.
Category:Vol. III. Book 2 Quests
So I dunno. I'm not getting the grey ring, though. And I should be at the right level. My Burglar finished the quest when it was green 6 or 7 levels above the NPCs. There's no quest to abandon. I finished the chapter, but I can't get the next one started. According to the LOTRO wiki, "The following quests are no longer part of the story-line but still appear in that section of the quest log.
Category:Vol. II. Book 3 Quests
Would this prevent me from working on the next Volume of Epic Quests? Besides, being an epilogue, it's not really a prerequisite. Looks like you're using new Reddit on an old browser. The site may not work properly if you don't update your browser!
Pages in category "Vol. III. Book 6 Quests"
If you do not update your browser, we suggest you visit old reddit. Epic quest chain broken??? Posted by 6 years ago. Any help would be greatly appreciated! Never encountered it myself. What chapter were you on?
Epic quest chain broken???
I am not seeing Halberad there, so that is the problem. Continue this thread. More posts from the lotro community. Tolkien's beloved fantasy series. Created Jan 12,